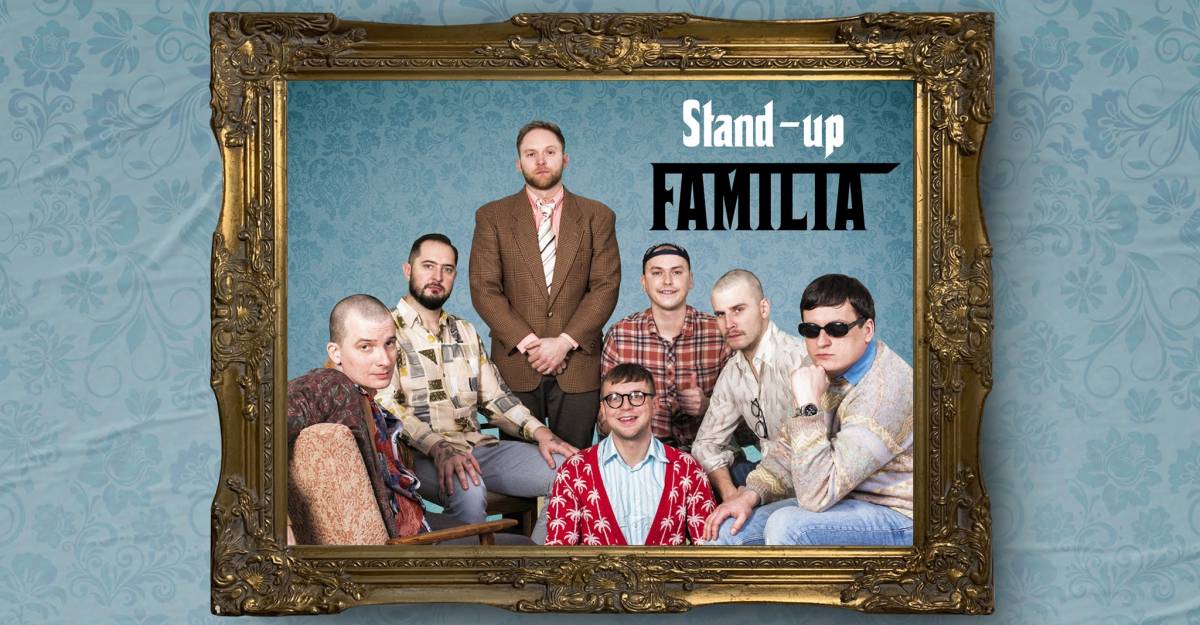 Informacje od Organizatora:
Stand-up Familia to wyjątkowy występ 7 komików połączonych więzami silniejszymi niż krew. W ogniu wieloletnich przyjaźni, tysięcy kilometrów i gargantuicznych melanży wykuł się klan, który zaprezentuje wielowątkową opowieść o swojej znajomości.
Podczas wieczoru Stand-up Familia czeka na Was 6 wyjątkowych występów stand-upowych, opatrzonych energetycznym prowadzeniem, prezentowanych w familiarnej atmosferze, bez fajerwerków, ognia, dymu i dzikiego pośpiechu. Chcemy, abyście poczuli się jak u siebie, więc na pewno będą momenty szalonego śmiechu, dzikiej niezręczności, głębokiej nostalgii i ignorowania problemu alkoholowego niektórych przy stole.
Zapraszamy na występ, który jest niepowtarzalną kombinacją świetnych wykonawców, emanacją ich koleżeństwa oraz (oddajmy, dość pobieżną) analizą życia rodzinnego Anno Domini 2020.
Na scenie pojawią się (kolejność genealogiczna)
Darek GADOWSKI - Pater familias, koszaliński don i bon vivant. Każdy na pewno chciałby mieć takiego stryjka, co i freestyle'ować potrafi, i anegdotą sypnie (czym innym zresztą też). Niespożyta energia spełniająca się w przesympatycznej frustracji.
Jacek STRAMIK - Bad boy w skórzanej kurtce, tatuażach i bypassach, Jacek to koneser kontrkultury, a nade wszystko powiązanych z nią przyjemności. Wujek, którego wiedzę przebija tylko skłonność do autodestrukcji. Występ z gatunku totalnych.
Jasiek BORKOWSKI - Twój starszy brat, któremu co prawda trzeba czasem pożyczyć fajkę, ale w zamian dostaniesz trwającą 4 godziny (albo 4 lata) anegdotę. Piękna dusza zamknięta w dresach, idealnie potrafiący uderzyć w fałsz poczucia bezpieczeństwa współczesności.
Paweł CHAŁUPKA - Braciak, co zabierze cię do zoo żeby rzucać żukami w gekony. Pomysły Pawła nie pochodzą z ziemi, tej ziemi, ale jeśli ich nie kupujesz to jesteś cienias i idź do piwnicy po dżem (tylko nie ten słodki). Absurd do granic i bez granic.
Bartosz ZALEWSKI - Kuzyn, który po powrocie z Legii Cudzoziemskiej nie był Taki Sam. Każdy ma w rodzinie tego, przy którym więdną kwiaty, nawet plastikowe, a wazektomia przebija plan na przedłużenie rodu. Występ skaczący po tematach jak bankierzy powinni z okien.
Rafał BANAŚ - Przyszywany kuzynobrat, w sumie przyszedł kiedyś na imprezę i został, bo spoko z niego typ. "Szakal" to prawdopodobnie najbardziej wyczilowany człowiek na świecie, ale nie dajcie się zmylić - skrywa to umysł ostry jak brzytwa, jak brzytwa!
A całość imprezy poprowadzi oczywiście:
Błażej KRAJEWSKI - Enfant terrible, wszechutalentowany bratanek, który za sprawą czystej siły swej sztuki wyrwał się z bloków. Teraz wraca na rodzinną ziemię, by pokazać Wam puchary oraz opowiedzieć kilka historii ze swoją rodziną w tle.
Link do sprzedaży biletów:
17:00
https://bilety.adria-art.pl/event/view/id/139294
20:00
https://bilety.adria-art.pl/event/view/id/139243
Uwaga: Występ dla osób dorosłych.
Uwaga2: Kategoryczny zakaz nagrywania dźwięku oraz obrazu.
Uwaga3: Organizator zastrzega sobie prawo do wyproszenia widzów nie spełniających podstawowych zasad dobrego wychowania, bez możliwości zwrotu pieniędzy za bilet.
______________________
Kalendarz wydarzeń odbywających się w Bydgoszczy miej zawsze pod ręką dzięki aplikacji mobilnej (Android i iOS).
______________________
Informacje o wydarzeniach przesyłajcie na adres wydarzenia@visitbydgoszcz.pl
______________________
Bydgoskie Centrum Informacji nie ponosi odpowiedzialności za jakiekolwiek zmiany miejsc, godzin i dat wydarzeń.