Dyplomy 2018. Wystawa prac dyplomowych studentów architektury wnętrz UTP
Gdzie?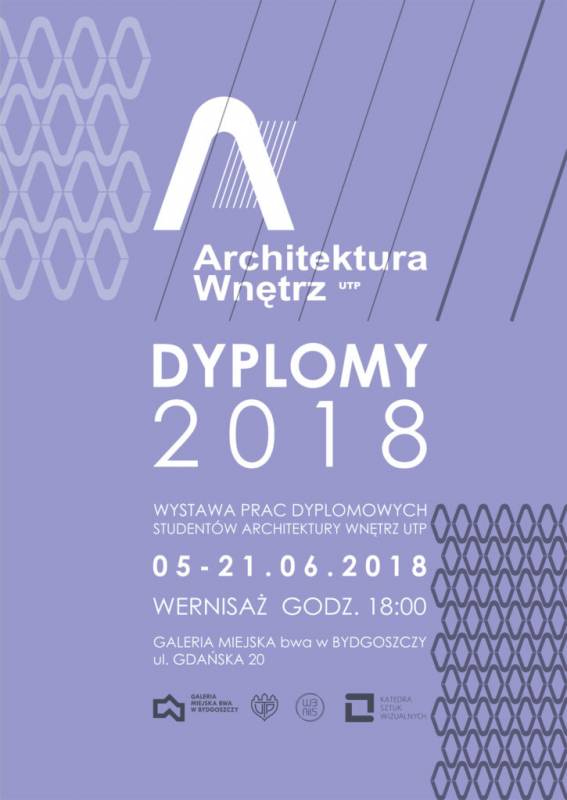 Współczesna architektura jest niezwykle wizjonerską i niełatwą dyscypliną. Młodzi projektanci muszą stworzyć i zaproponować na tyle ponadczasowe i przyszłościowe rozwiązania, aby przetrwały próbę czasu. Swoje koncepcje i projekty tworzą uwzględniając oraz analizując spektrum czynników, zależności i współzależności. Na wystawie będziemy mogli zobaczyć jak w tym roku studenci Architektury Wnętrz UTP w Bydgoszczy podejmują próby rozwiązania niełatwych zagadnień zagospodarowania i adaptacji czy rewitalizacji przestrzeni przede wszystkim na terenie Bydgoszczy i najbliższych okolic.
Architektura wnętrz to sztuka której przestrzeń, zakres i ramy użyteczności kształtuje twórca nadając im rzeczywisty wymiar. Linia, rysunek, plan zaczyna istnieć i żyć własnym życiem w realnej przestrzeni, przechodząc symbiozę i zespalając się z otaczającą tkanką miejską i kulturową.
Prezentowane prace poruszają problemy życia społecznego jak na przykład spędzania wolnego czasu lub tworzenia miejsc sprzyjających edukacji, czy pracy. Nadawanie nowego życia i sensu przestrzeniom zapomnianym i wyłączonym z użycia – to trudny, ale i inspirujący zakres, w którym doskonale odnaleźli się absolwenci Architektury Wnętrz UTP.
Istotnym zagadnieniem zauważonym przez dyplomantów jest ponadto uwzględnienie potrzeb osób niepełnosprawnych.
Architektura wnętrz to jednak nie tylko kształtowanie przestrzeni dla człowieka i wokół człowieka – to również elementy i instrumenty, jakimi się posługujemy na co dzień. Dlatego też wśród prac zobaczymy także obiekty wzornicze takie jak meble, modele oraz ich wizualizacje.
Zapraszamy na wystawę prac dyplomowych poruszającą problematykę kształtowania najbliższego otoczenia człowieka w odniesieniu do architektury wnętrz oraz mebli i ekspozycji w kontekście użytkowym i kulturowym.
Monika Pisarek
Początek 05.06.2018, godz. 18.00
Koniec 21.06.2018
______________________
Kalendarz wydarzeń odbywających się w Bydgoszczy miej zawsze pod ręką dzięki aplikacji mobilnej (Android i iOS).
______________________
Informacje o wydarzeniach przesyłajcie na adres wydarzenia@visitbydgoszcz.pl
______________________
Bydgoskie Centrum Informacji nie ponosi odpowiedzialności za jakiekolwiek zmiany miejsc, godzin i dat wydarzeń.