Rekonstrukcja procesów o czary - Fordońskie czarownice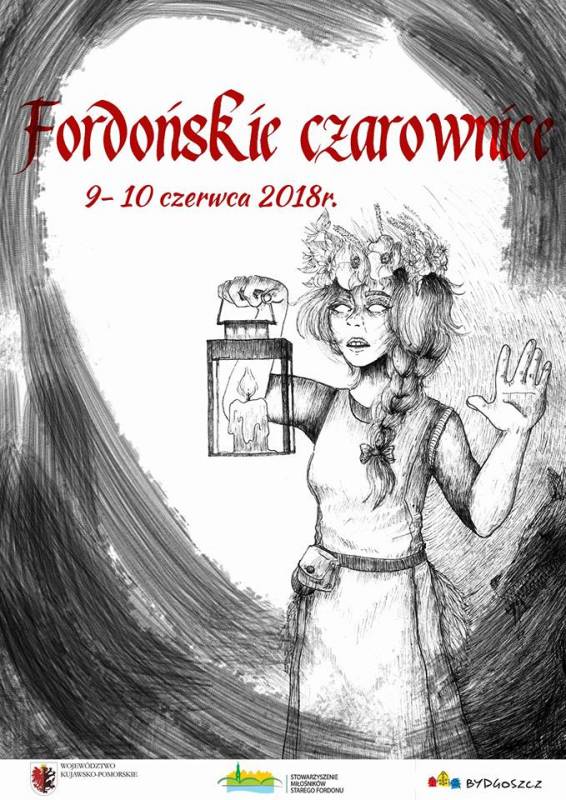 Rekonstrukcja procesów o czary "Fordońskie czarownice" podczas IV edycji Święta Starego Fordonu, 9-10 czerwiec 2018.
Fordon… dawnej samodzielne miasto, dziś "czarowne" miejsce w przenośni i dosłownie. Niewielu z Was wie o tym, że to z pozoru niewielkie miasteczko ma za sobą dość burzliwą historię, która mocno wpłynęła na zamieszkującą je ludność.
Podczas świętowania 9 i 10 czerwca chcemy podzielić się z Wami fragmentem naszej bogatej historii i pokażemy jak w Fordonie odbywały się sądy nad tymi niewiastami, na które padł cień czarostwa. Nasza opowieść jest oparta na autentycznych procesach kobiet, mieszkanek Fordonu i okolic z okresu XVII wieku. Ten niełatwy czas dla ludności był obfity w przeróżne nieszczęścia, jakie nawiedzały tę senną zwykle mieścinę, lecz strach i niewiedza były doskonałym napędem nakręcającym tę spiralę wzajemnych niechęci i oskarżeń. Moda na wyłapywanie czarownic i spalanie ich w oczyszczających płomieniach stosów przyszła z zachodu i tu, w Fordonie, znalazła dla siebie ujście w postaci ponad 70 procesach o czary, gdzie ponad 50 kobiet zostało spalonych. Jednak zdarzały się wyjątki : trzy czarownice poddano chłoście, a siedem wygnano.
Przybywajcie, by zobaczyć to na własne oczy, wmieszajcie się w tłum, a może spotkacie czarownicę na swej drodze…
Do zobaczenia w Starym Fordonie!
______________________
Kalendarz wydarzeń odbywających się w Bydgoszczy miej zawsze pod ręką dzięki aplikacji mobilnej (Android i iOS).
______________________
Informacje o wydarzeniach przesyłajcie na adres wydarzenia@visitbydgoszcz.pl
______________________
Bydgoskie Centrum Informacji nie ponosi odpowiedzialności za jakiekolwiek zmiany miejsc, godzin i dat wydarzeń.