Artyści w Bohemie - Jacek Braciak
Gdzie?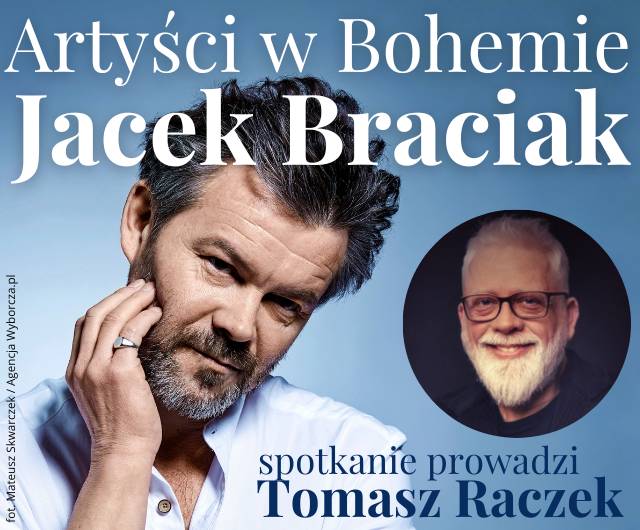 Informacje od Organizatora:
Ekscentryczny projektant mody, szef kuchni, ksiądz karierowicz, zbieracz złomu, trener tenisa, policjant drogówki… a nawet Tadeusz Kościuszko – postaci, w które wciela się Jacek Braciak nie można zapomnieć. W poniedziałek 20 lutego ten jeden z najpopularniejszych polskich aktorów filmowych, telewizyjnych i teatralnych będzie gościem cyklu Artyści w Bohemie. Wieczór poprowadzi Tomasz Raczek
Jacek Braciak stworzył niezapomniane kreacje filmowe w topowych polskich produkcjach. Popularność przyniósł mu film "Edi" Piotra Trzaskalskiego. Za rolę mieszkającego w przeznaczonej na rozbiórkę fabryce zbieracza złomu Jureczka został nagrodzony Orłem oraz Złotym Lwem na Festiwalu Polskich Filmów Fabularnych w Gdyni.
Jacek Braciak to też jeden z ulubionych aktorów Wojciecha Smarzowskiego. U tego reżysera zagrał w "Róży", "Drogówce", "Pod Mocnym Aniołem", "Wołyniu" i "Klerze". Za role w "Róży" i "Klerze" ponownie został uhonorowany Orłami.
Kinomani doskonale pamiętają go również m.in. z "Katynia" Wajdy, "Mojego wspaniałego życia" i "CórkiTrenera" Grzegorzka czy "Żeby nie było Śladów" Matuszyńskiego. W 2023 roku ma trafić na ekrany "Kos", w którym aktor wciela się w postać Tadeusza Kościuszki.
Jacek Braciak często występuje również w serialach. "Pitbull", "BrzydUla", "Kryminalni", "Ludzie Chudego" czy "Czas honoru" to tylko kilka z serialowych produkcji, w których wystąpił.
Jak podkreślają recenzenci – nie ma znaczenia czy to rola pierwszoplanowa czy drugoplanowa, teatr, film czy serial – postaci zagrane przez Jacka Braciaka pamięta się zawsze.
W wywiadzie dla Gazety Wyborczej Jacek Braciak tak opowiada o aktorstwie: "Momentem przełomowym w życiu zawodowym było spotkanie z Piotrem Trzaskalskim ("Edi", "Mistrz"), który mi zaufał i powiedział: "Stary, jesteś wspaniały. Tylko bądź sobą. Nie musisz od siebie uciekać". To we mnie zapadło. Po kawałeczku nabierałem odwagi, odkrywałem się. Zrezygnowałem z moich aspiracji, aby być Robertem De Niro czy Tadeuszem Łomnickim. Stwierdziłem: "No dobra, będę Braciakiem". To bardzo mnie uwolniło".
Spotkanie z Jackiem Braciakiem w poniedziałek 20 lutego 2023 roku o godzinie 18:00 w Restauracji Weranda w Hotelu Bohema.
Bilety w cenie 300 zł /osoba obejmują wstęp na spotkanie autorskie, które poprowadzi Tomasz Raczek oraz wykwintną czterodaniową kolację z napojami przy muzyce na żywo.
______________________
Kalendarz wydarzeń odbywających się w Bydgoszczy miej zawsze pod ręką dzięki aplikacji mobilnej (Android i iOS).
______________________
Informacje o wydarzeniach przesyłajcie na adres wydarzenia@visitbydgoszcz.pl
______________________
Bydgoskie Centrum Informacji nie ponosi odpowiedzialności za jakiekolwiek zmiany miejsc, godzin i dat wydarzeń.