Jazz u Hoffmana: The Music of Henryk Wars - Kuba Stankiewicz, Piotr Biskupski, Grzegorz Nadolny
Gdzie?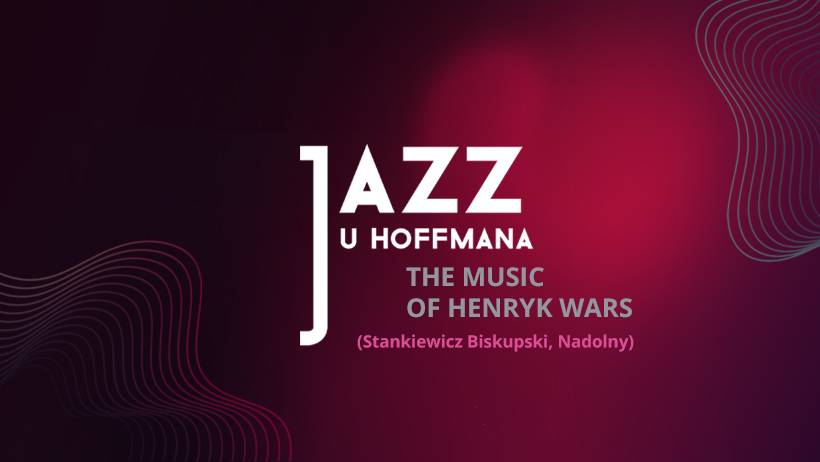 Informacje od Organizatora:
Usłyszymy kompozycje Henryka Warsa opracowane przez Kubę Stankiewicza na fortepianowe trio. Stankiewiczowi towarzyszyć będą Grzegorz Nadolny (kontrabas) i Piotr Biskupski (perkusja). Ponadczasowość twórczości Henryka Warsa jest oczywista: Miłość ci wszystko wybaczy, Nic o Tobie nie wiem czy Ach, jak przyjemnie. Jego piosenki stały się kanonem przebojów przedwojennego polskiego kina, choć na koncercie nie zabraknie także utworów napisanych już w USA, gdzie kompozytor osiadł po wojnie i gdzie po wielu latach trudów rozpoczął współpracę z Hollywood.
Kuba Stankiewicz – grał i nagrywał z Janem Ptaszynem Wróblewskim, Zbigniewem Namysłowskim, Henrykiem Miśkiewiczem, Piotrem Wojtasikiem, Scottem Hamiltonem, Artem Farmerem, Sheilą Jordan, Januszem Muniakiem, Tomaszem Szukalskim, Anną Marią Jopek i z gronem innych, równie znakomitych jazzmanów z całego świata.
W latach 1987-1990 studiował w Berklee College of Music w Bostonie gdzie został wyróżniony Nagrodą Oscara Petersona. Półfinalista prestiżowego Międzynarodowego Konkursu Pianistów Jazzowych im. Theloniousa Monka w Waszyngtonie.
W roku 2016 roku otrzymał tytuł doktora habilitowanego w dziedzinie sztuk muzycznych, a w listopadzie 2020 roku otrzymał tytuł profesora sztuki.
Piotr Biskupski, perkusista. Absolwent Akademii Muzycznej w Poznaniu, współpracował z czołówką polskiej sceny jazzowej, m.in. ze Zbigniewem Namysłowskim, Wojciechem Karolakiem, Tomaszem Szukalskim, wokalistkami takimi jak Hanna Banaszak, Edyta Geppert, Kasia Kowalska oraz wieloma artystami zagranicznymi. Nagrał ponad czterdzieści płyt, jest autorem dwóch podręczników perkusyjnych. Prowadzi klasę perkusji w Akademii Muzycznej w Bydgoszczy, pełni funkcję kierownika Katedry jazzu. Wykłada na licznych kursach perkusyjnych i jazzowych. Regularnie pisuje artykuły do fachowych pism muzycznych m.in. "Top Drummer", "Muzyk" i "Perkusista". Odznaczony medalem za szczególne osiągnięcia dla kultury narodowej "Gloria Artis".
Grzegorz Nadolny, kontrabasista. Absolwent Akademii Muzycznej im. Feliksa Nowowiejskiego w Bydgoszczy w klasie kontrabasu dr. Zbigniewa Wrombla. Stale współpracuje z czołówką polskich muzyków, nie tylko jazzowych, współdziałał też z licznymi wykonawcami z zagranicy, jak m.in. Dirk Engelhard, Uli Orth, Marque Lowenthal, David Gołoszczokin. Sam uprawia muzykę, która stoi na pograniczu różnych stylów, posiadającą jednak silny jazzowy rdzeń. Oprócz muzykowania zajmuje się pracą pedagogiczną i edukacyjną. Jest m.in. autorem cyklu koncertów prezentujących dokonania środowiska akademickiego pt: "Bydgoska Akademia Jazzu". Zajmuje się także publicystyką kulturalną na łamach bydgoskich gazet i czasopism.
Bilety w cenie 20zł/os. do nabycia w siedzibie KPCK oraz na biletyna.pl
____________________
Kalendarz wydarzeń odbywających się w Bydgoszczy miej zawsze pod ręką dzięki aplikacji mobilnej (Android i iOS).
______________________
Informacje o wydarzeniach przesyłajcie na adres wydarzenia@visitbydgoszcz.pl
______________________
Bydgoskie Centrum Informacji nie ponosi odpowiedzialności za jakiekolwiek zmiany miejsc, godzin i dat wydarzeń.