Odczyt: Pamięć o wykluczonych
Gdzie?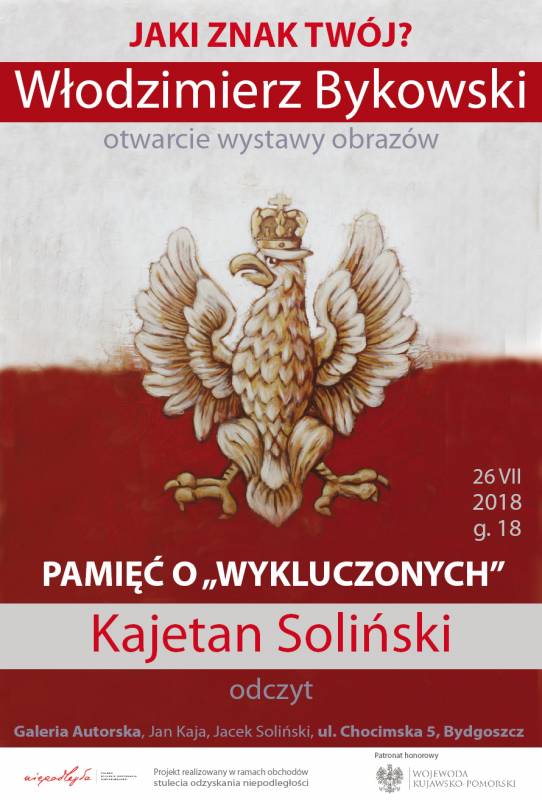 26.07.2018, godz. 18.00 –– odczyt, Kajetana Solińskiego pt. "Pamięć o wykluczonych". Czytanie tekstów źródłowych – Mieczysław Franaszek.
Kajetan Soliński, ur. 1979 r. w Bydgoszczy. Ukończył politologię na UKW w Bydgoszczy, studia managerskie na Wyższą Szkołę Bankową w Toruniu oraz Digital Marketing na Oxford College of Marketing. Od 2013 r. mieszka w Edynburgu. Zajmuje się marketingiem, fotografią oraz publicystyką historyczną, społeczną i ekonomiczną. Autor kilku wystaw. Redaktor naczelny Polskiego Magazynu wydawanego w Wielkiej Brytanii. Publikował m.in. w: Magazynie Reduta, Salonie Kultury Polskiej, Polonia In The World oraz na portalach: England.pl i Magna Polonia.
PAMIĘĆ O "WYKLUCZONYCH"
Podczas jednego spotkania, nie sposób, nawet pobieżnie, omówić wszystkich, którzy w historii Polski zasługują na miano "wykluczonych" - wykluczonych bohaterów i wykluczonych zasłużonych. Dlatego tematyka mojego wystąpienia ograniczona została do czasu II wojny światowej. Wybór ten wynika również z faktu, że największa, grupa osób zasługujących na takie określenie, związana jest z tym okresem.
Wymazywanie pamięci o Polakach zaczęło się już w czasie wojny
Praktyka ukrywania zasług polskich bohaterów rozpoczęła się już w czasie wojny. Ci, o których chwilę wcześniej mówiono, że "jeszcze nigdy tak wielu nie zawdzięczało tak wiele tak nielicznym", nagle stali się persona non grata. Ze względu na ocieplenie stosunków miedzy aliantami zachodnimi a ZSRR, zaczęto minimalizować rolę m.in. polskich pilotów, którzy ocalili Wielką Brytanię przed inwazją Niemców. Ostatecznie odmówiono polskim lotnikom nawet udziału w londyńskiej paradzie zwycięstwa.
W obliczu szokującego obrazu Holokaustu, solidarnie milczano o zaangażowaniu polskiego podziemia, które po odkryciu i rozpracowaniu niemieckiego systemu ludobójstwa, rozpaczliwie starało się przekonać przywódców państw alianckich do ratowania Żydów. Niestety, reszta świata pozostawała wówczas głucha na doniesienia o tej tragedii.
Po ustaleniach jałtańskich, gdy nasz kraj został oddany do sowieckiej strefy wpływów, zaczęła ginąć pamięć o bohaterach, jeszcze przed momentem "noszonych na rękach". Taki los spotkał m.in. Dywizję Pancerną gen. Maczka oraz żołnierzy z Armii Andersa. W tym samym czasie, po drugiej, wschodniej stronie żelaznej kurtyny, pilnowano, aby ci, którzy tam pozostali – "w uznaniu" ogromu zasług - trafili do katowni NKWD. Moskwa skrupulatnie dbała o to, żeby w pisanej na nowo historii przekłamać bądź zupełnie usunąć pamięć o większości bohaterskich dokonań Polaków. Niestety odbywało się to za - niemal oficjalnym - przyzwoleniem niedawnych sojuszników: aliantów zachodnich, w tym również Stanów Zjednoczonych, którzy podczas tzw. Procesu szesnastu wychwalali działanie radzieckiego wymiaru sprawiedliwości.
Wojsko Polskie walczące z sowieckim okupantem, już po zakończeniu II wojny światowej, traktowane były przez aliantów - zarówno zachodnich, jak i ZSRR - jako formalnie nieistniejące.
Ciąg dalszy fałszowania historii - już w XXI wieku
W ostatnich latach jesteśmy świadkami natężenia prób pisania nowej historii. Z najważniejszych światowych środków przekazu dowiadujemy się o rzekomej współpracy Polski z Niemcami przy mordowaniu Żydów, o kolaboracji AK i "polskich obozach zagłady".
Manipulacje w wykonaniu koncernów medialnych, m.in.: brytyjskie BBC, amerykańskie CNN, czy niemieckie: ZDF i Ringier Axel Springer (wydawca m.in. polskiego Newsweeka i portalu Onet), zmierzają wprost do fałszowania historii. Odbywające się na naszych oczach próby przekłamywania faktów, przyczyniają się do ponownego wykluczenia polskich bohaterów.
Kajetan Soliński
____________________
Kalendarz wydarzeń odbywających się w Bydgoszczy miej zawsze pod ręką dzięki aplikacji mobilnej (Android i iOS).
______________________
Informacje o wydarzeniach przesyłajcie na adres wydarzenia@visitbydgoszcz.pl
______________________
Bydgoskie Centrum Informacji nie ponosi odpowiedzialności za jakiekolwiek zmiany miejsc, godzin i dat wydarzeń