The Batt - operetta by Johann Strauss
Gdzie?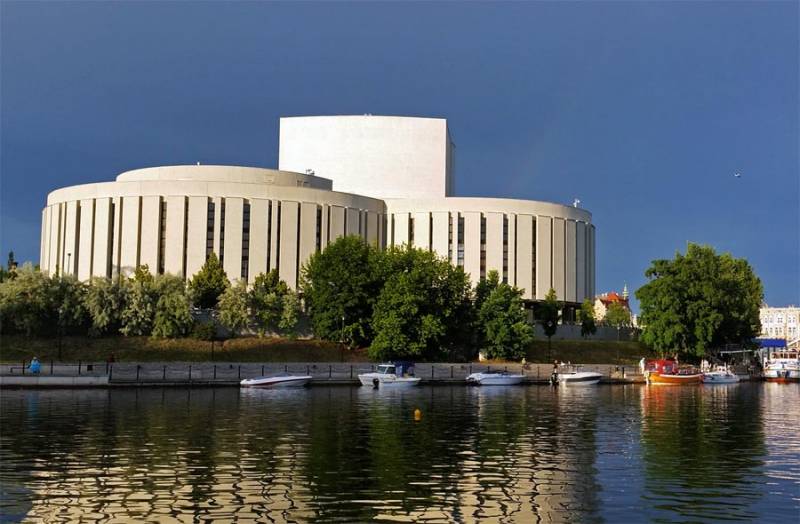 Johann Strauss ( 1825-1899)
"ZEMSTA NIETOPERZA" ("Die Fledermaus"), operetka w trzech aktach
Realizatorzy:
kierownictwo muzyczne Maciej Figas
inscenizacja i reżyseria Grzegorz Boniecki
scenografia Marian Stańczak
choreografia Teresa Kujawa
przygotowanie Chóru Henryk Wierzchoń
Premiera: 16 października 1995 r.
Rozszyfrujmy tytułowego nietoperza :w początkach XIX wieku ogromną popularnością cieszyły się maskarady. Dwaj bohaterowie straussowskiej operetki wybrali się na bal maskowy: Eisenstein przebrany za motyla, Falke – za nietoperza. . Nazajutrz Falke ( po wypiciu słusznych ilości szampana) obudził się pod drzewem w parku, gdzie zostawił go lekkoduch Eisenstein. Biedny Falke musiał wędrować do domu odprowadzany docinkami przechodniów kpiących z nietoperza w biały dzień. Poprzysiągł, że weźmie odwet na dowcipnisiu. I tu zaczyna się akcja "Zemsty nietoperza".
"Zemsta nietoperza" Straussa uchodzi za operetkę wzorcową dla swego gatunku i zawiera co najmniej dwa komponenty, które czynią z niej arcydzieło. Po pierwsze- wspaniałą muzykę : walce, polki i arie, przed którymi drżą śpiewacy, gdyż wymagają wielkiej rozpiętości głosu.To z tej operetki pochodzi m.in. słynny "czardasz Rozalindy", aria Adeli "ze śmiechem"i cudowna uwertura , która wprost porywa do tańca. Po drugie- dowcipne i intrygujące libretto, łączące paryską frywolność literackiego pierwowzoru, pełną wdzięku i elegancji komedię salonową i wiedeńską krotochwilę. Geniusz Straussa połączył to harmonijnie, wplatając do II aktu scenę balu u księcia Gigi.
Streszczenie libretta:
I.W domu bankiera, Gabriela Eisensteina, pokojówka Adela czyta list od siostry, tancerki Idy. Ida zaprasza ja na bal wydawany przez księcia Gigi. Nadchodzi rozśpiewany Alfred, były narzeczony pani domu, Rozalindy Eisenstein. Rozalinda, pełna obaw, aby nie zetknął się z jej mężem,przyrzeka mu spotkanie wieczorem, wie bowiem, iż Eisenstein ma iść na 5 dni do więzienia za uderzenie poborcy podatkowego. Adela prosi o wolne, gdyż rzekomo musi zająć się chorą ciocią.Rozalinda zgadza się, nie chcąc by pokojówka była świadkiem odwiedzin Alfreda.
Tymczasem z sądu powraca Eisenstein z mecenasem Blindem. Wskutek fatalnej obrony skazanemu dołożono jeszcze 3 dni aresztu!Odsiadywanie kary ma rozpocząć za kilka godzin. Przyjaciel, doktor Falke nadchodzi z kusząca propozycją: radzi, by Eisenstein poszedł do więzienia rano, natomiast noc spędził na balu u księcia Gigi - naturalnie w tajemnicy przed żoną. Rozalinda dziwi się wprawdzie,że mąż idzie do więzienia we fraku i cylindrze,ale ten uspokaja ją słowami "chociaż los czarny, to gors snieżny" . Wkrótce po jego wyjściu nadchodzi Alfred. Zasiadają do kolacji: Rozalinda w kuszącym negliżu, Alfred w szlafroku jej męża. Nagle z nieoczekiwaną wizytą przychodzi dyrektor więzienia, Frank. Przybył, by osobiście doprowadzić Eisensteina do celi. Alfred, trochę pijany, godzi się odegrać role męża i Frank zabiera go ze sobą, pewny,że aresztował Eisensteina.
II. Na balu u księcia Gigi Orlovsky'ego zbierają się wytworne damy, także młodziutkie tancerki, gryzetki...Wśród nich Ida i Adela (ubrana w suknię Rozalindy). Dr Falke objaśnia księciu intrygę, dzięki której chce się zemścić na Eisensteinie za karnawałową maskaradę sprzed roku. Zaprosił tu także Rozalindę, która ma przybyć w przebraniu i udawać węgierską hrabinę. Intryga przebiega zgodnie z planem: Eisenstein asystuje Adeli,nie więdząc,że nadskakuje własnej pokojówce. Nastepnie obdarza zainteresowaniem tajemniczą maseczkę,nie poznając- ukrytej pod nią - własnej żony. Rozalinda wykorzystując sytuację zabiera niewiernemu mężowi piękny zegarek.
Zabawa nabiera coraz większego tempa, dwie osoby muszą jednak rano stawić sie w więzieniu: dyrektor Frank i Eisenstein, którzy zdążyli już serdecznie zaprzyjaźnić się z sobą.
III. W więzieniu jest tylko jeden więzień: rozśpiewany Alfred. Pilnuje go zapijavczony dozorca Frosch. Nadchodzi dyrektor Frank a za nim spieszą Ida i Adela , gdyż obiecał im protekcję w teatrze. Frank musi ukryć dziewczęta w wolnej celi, gdyz zgłosza sie kolejny więzień - Gabriel Eisenstein. Obaj panowie wyjaśniwszy sobie, kim w istocie są, dziwią się jeszcze bardziej , gdyż... Eisenstein został przecież zabrany wczoraj z czułych objęć żony. Eisenstein chcąc dociec, kto kryje sie pod jego nazwiskiem przebiera się za sądowego aplikanta i wraz z mecenasem Blindem przesłuchuje Alfreda. Kiedy chce oskarżyć żonę o tete a tete z kochankiem, ta pokazuje mu ,zabrany podczas balowych flirtów, zegarek. Na koniec Falke wyjaśnia wszystkim intrygę zaaranżowaną z zemsty...
______________________
Kalendarz wydarzeń
odbywających się w
Bydgoszczy
miej zawsze pod ręką dzięki
aplikacji mobilnej
(Android i iOS).
______________________
Informacje o wydarzeniach przesyłajcie na adres
wydarzenia@visitbydgoszcz.pl
______________________
Bydgoskie Centrum Informacji nie ponosi odpowiedzialności za jakiekolwiek zmiany miejsc, godzin i dat wydarzeń.