Wystawa na Wielkim Ekranie: Teatro alla Scala - cudowna świątynia opery
Gdzie?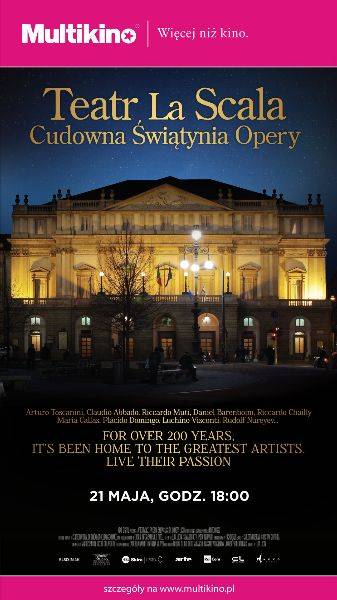 Cykl Wystaw na Wielkim Ekranie w Multikinie: "Teatro alla Scala – cudowna świątynia opery"
Film został poświęcony jednej z najbardziej ekskluzywnych świątyń muzyki
i sztuk scenicznych na świecie. To miejsce, w którym sztuka operowa jest tworzona i wykonywana od 250 lat.
Film opowiada historię teatru, który bardziej niż jakikolwiek inny na świecie związany jest
z największymi nazwiskami w historii muzyki. Na jego deskach śpiewały sławy operowe, takie jak: Giuseppe Verdi, Giacomo Puccini, Arturo Toscanini, Maria Callas, Luchino Visconti, a w ostatnich latach Claudio Abbado i Riccardo Muti. Wszyscy występujący na scenie legendarnego teatru mają poczucie sacrum, miejsca wyjątkowego. Opowiedzą
o tym dyrygenci Daniel Barenboim i Riccardo Chailly, śpiewacy Mirella Freni i Plácido Domingo, tancerze Carla Fracci i Roberto Bolle oraz dyrektorzy generalni i dyrektorzy artystyczni Scali: Pereira, Lissner i Fontana.
Jak mówią autorzy filmu, Luca Lucini i Silvia Corbetta: "Jasne było, że jeśli chcemy odkryć tajemnice prawie 250 lat historii Teatro alla Scala, musimy opowiedzieć historię tego, czym naprawdę jest Scala. To fabryka emocji".
Realizatorzy twierdzą, że przez cały czas istnienia teatru wszystkie emocje wywoływane przez piękno opery niejako wsiąkały w kurtynę, podłogę i fotele na widowni, i co wieczór, gdy gasną światła, są na nowo przywoływane. W podróż w czasie zabierze nas narrator Sandro Lombardi oraz włoscy aktorzy, którzy wcielają się w postaci sławnych wydawców, ale i pracowników opery współtworzących jej sukces. Bebo Storti wystąpi w roli impresaria Domenica Barbaji. Francesca Inaudi wcieli się w rolę Marietty Ricordi – spadkobierczyni rodu wydawców. Giuseppe Cederna zagra inżyniera Giuseppe Colombo, który to zelektryfikował La Scalę, a Gigio Alberti librecistę Luigi'ego Illicę. Andrea Bosca natomiast wystąpi jako konsjerż Grand Hotel w Mediolanie.
Bilety grupowe dla grup powyżej 15 osób do nabycia u specjalistów ds. rezerwacji grupowej w poszczególnych kinach (telefony kom. pon - pt, 9-17): https://multikino.pl/pl/informacje/szkoly/kontakt-rezerwacje-grupowe
Ceny biletów:
30 zł normalny, 25 zł ulgowy, 25 zł grupowy (pow 15 os.), 25 zł szkolny (pow. 30 uczniów).
Bilety już w sprzedaży w kasach kin i na stronie: www.multikino.pl.
______________________
Kalendarz wydarzeń odbywających się w Bydgoszczy miej zawsze pod ręką dzięki aplikacji mobilnej (Android i iOS).
______________________
Informacje o wydarzeniach przesyłajcie na adres wydarzenia@visitbydgoszcz.pl
______________________
Bydgoskie Centrum Informacji nie ponosi odpowiedzialności za jakiekolwiek zmiany miejsc, godzin i dat wydarzeń.