Krew na kocim gardle, czyli Marilyn Monroe kontra wampiry
Gdzie?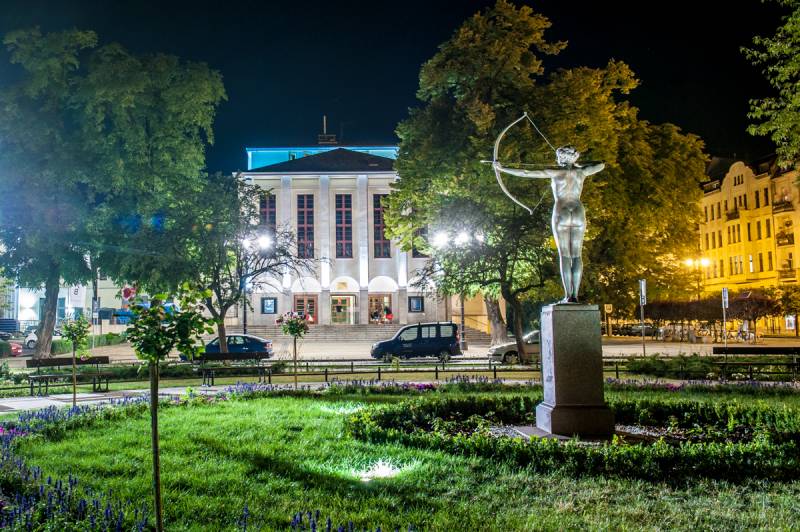 SPEKTAKL
duża scena
spektakl kameralny
czas trwania: 110 min bez przerwy
Krew na kocim gardle, czyli Marilyn Monroe kontra wampiry
RAINER WERNER FASSBINDER
Krew na kocim gardle
REŻYSERIA
Anja Suša
TŁUMACZENIE
Iwona Nowacka
DRAMATURGIA
Agnieszka Jakimiak
KOSTIUMY
Maja Mirković
SCENOGRAFIA
Zorana Petrov
ASYSTENTKA SCENOGRAFKI
Anna Adamiak
MUZYKA
Krzysztof Kaliski
CHOREOGRAFIA
Damjan Kecojević
ŚWIATŁA
Robert Łosicki
VIDEO
Mikołaj Walenczykowski
INSPICJENT
Mateusz Stebliński
WYSTĘPUJĄ
Beata Bandurska, Maciej Pesta, Martyna Peszko, Anita Sokołowska, Małgorzata Trofimiuk, Jakub Ulewicz, Konrad Wosik, Małgorzata Witkowska oraz Jagoda Długosz, Grażyna Grzelak, Maria Jazel, Halina Kanarkowska, Sławomir Majczyk, Emilia Malczyk, Teresa Perlik, Monika Skorobohata
REINER WERNER FASSBINDER BLUT AM HALS DER KATZE COPYRIGHT © VERLAG DER AUTOREN, FRANKFURT NAD MENEM, NIEMCY. WSZELKIE PRAWA ZASTRZEŻONE
W Krwi na kocim gardle piętrzymy pytania, nie stawiamy żadnych tez.
Być może relacja teatru z rzeczywistością jest o wiele bardziej złożona niż nam się wydaje. Być może jest sztuczna, arbitralna i deklaratywna. Być może za mocno chcieliśmy związać spektakl teatralny z diagnozą społeczną i zbyt szybko wysnuliśmy wniosek, że sztuka teatralna dysponuje tymi samymi narzędziami co publicystyka.Tymczasem konwencje teatralne nie są niewinne i przezroczyste. Bez przyjrzenia się mechanizmom ich wytwarzania trudno oczekiwać od teatru skutecznej autodiagnozy.
Niemiecki reżyser filmowy Rainer Werner Fassbinder zasłynął między innymi z programowego braku zaufania wobec skonwencjonalizowanych języków sztuki. Z łatwością nadawał swoim filmom ramę kina gangsterskiego, melodramatu czy science-fiction i prześwietlał gatunkowe klisze, ujawniając ich przemocową strukturę. W ponad czterdziestu filmach, które udało mu się zrealizować przed śmiercią w wieku 37 lat, Fassbinder opowiadał tak naprawdę jedną historię, przepisaną na wiele scenariuszy. To opowieść o przemocy i faszyzmie rodzących się w małych społecznościach, w jednostkowych relacjach, na planie z pozoru ulotnych i pozbawionych konsekwencji stosunków międzyludzkich. To także wyzwanie rzucone środkom filmowym i teatralnym oraz ich użytkownikom. "Krew na kocim gardle", tekst niewystawiany dotychczas w Polsce, zaprasza widzów i aktorów do udziału w hiperrealistycznej grze. Czy w siatce spojrzeń rzucanych ze sceny na widownię i z widowni na scenę jakikolwiek wzrok jest niewinny? Jak przydzielane są role w teatralnej rzeczywistości? I dlaczego teatralne rewolucje bywają skazane na klęskę?
Anja Suša (ur. 1973) - absolwentka reżyserii teatralnej na Akademii Sztuk Dramatycznych w Belgradzie oraz filozofii w Instytucie Historii Współczesnej w Belgradzie. W latach 2002-2011 pracowała jako dyrektor artystyczny teatru Little Theatre Dusko Radovic. Jest jedną z najważniejszych reżyserek z krajów byłej Jugosławii, wielokrotnie nagradzaną za spektakle reżyserowane na scenach w Danii, Szwecji, Chorwacji i Słowenii. Od dziesięciu lat jest kuratorką i selekcjonerką Międzynarodowego Festiwalu BITEF w Belgradzie. Pozostaje w bliskich relacjach z polskim teatrem, była gościem takich festiwali jak Boska Komedia w Krakowie czy Festiwal Prapremier w Bydgoszczy. Jej spektakle gościły na wielu polskich festiwalach, m.in. na Festiwalu Korczaka i Festiwalu Demoludy w Olsztynie ("Maja i ja i Maja").
"Już samo wyeksponowanie marki sceny, uznawanej za jedną z najbardziej zaangażowanych w kraju, może kierować uwagę widzów ku problematyce polityczności." Piotr Dobrowolski / Didaskalia
"Inscenizacja Krwi na kocim gardle, czyli Marilyn Monroe kontra wampiry, porusza tematy społeczne, korzystając z oryginalnej, zabawnej i z pozoru lekkiej formy. Spektakl jest przy tym znaczącym głosem w dyskusji na temat istotny teatralności i jej wymiarów praktycznych." Piotr Dobrowolski / Didaskalia